About ArrowMight Canada
ArrowMight Canada is a team of 20 education specialists including First Nations, Inuit and Métis consultants. We collaborate with IPLAC (Instituto Pedagogico LatinoAmericano y Caribeno) to deliver a compelling, cost-effective and rewarding literacy program that enables English-speaking Canadians, Aboriginal and Immigrant students to achieve their life goals.
Established in 2006, ArrowMight Canada is a division of ArrowMight International, globally respected pioneer in adult education, that was asked to expand its operations to help address the literacy needs of Canadians. Both ArrowMight International and ArrowMight Canada are subsidiaries of Aotearoa Institute, a Charitable Trust out of New Zealand.
Dr. Rongo H. Wetere, Managing Director
With the support of many, Aotearoa Institute was established in 1986. Dr. Wetere has long championed high-quality, culturally-appropriate education for Indigenous peoples and members of other minority populations. Believing that all people should have equal access to sound learning opportunities, Dr. Wetere established New Zealand's first Maori University, Te Wananga o Aotearoa, in 1994. Under his leadership, the university grew to be the largest provider of post-secondary education in New Zealand and according to the Institute of Economic Research (2003) the university contributed $3 billion dollars to the country's economy each year.
Today, Dr. Wetere continues to promote adult literacy and lifelong learning among Aboriginal peoples as the Managing Director of ArrowMight Canada and one of the founders of the World Indigenous Higher Education Consortium (WINHEC) established in Calgary, Alberta in 2002.
What We Can Deliver: Internationally proven program methodology that works for most adult literacy learners
Measurable Solutions
High student retention and completion rates, starting at Level 1 and progressing to Level 3 minimum functional literacy standard as required by the Canadian economy.
Central student Learning Management System (LMS)
Our LMS tracks and records the progress of all students to successful program completion and provides:
Financial accountability for government, private sector and Aboriginal funders
Easy independent monitoring and reporting for education providers including colleges and community organizations
Computerized end-of-program results quickly reducing administration and evaluation costs
For Learners The ArrowMight Program provides:
Convenient family home-based learning, with no travel or babysitting costs for students. A part-time program that is self-directed and self-paced with a supportive Community Facilitator to monitor and encourage success.
How?
Delivery of the program by licencing arrangements with ArrowMight Canada to literacy education providers anywhere in Canada.
When?
NOW! All program resources and Facilitator training provided.
Wanting to deliver this exciting Program?
Contact
To learn more about ArrowMight Canada and how you can use the Learning for Life literacy program to improve the quality of life of people in your community, contact us at:
ArrowMight Canada
99 Fifth Avenue, Suite 22 & 23
Ottawa, ON
K1S 5K4
Tel: 613-232-0901
Fax: 613-232-8249
Email: info@arrowmight.ca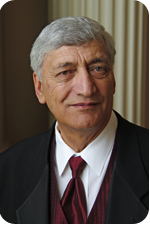 Dr. Rongo H. Wetere,
ONZM, FNZIM
There is no higher achievement than applying knowledge for the benefit of others
Our Vision is Inclusive
To make a difference for nine million Canadians with inadequate literacy skills
To empower and inspire adult learners to realize their potential in life, work and positive pursuits
"Good literacy is a passport to prosperity!"
FRANK MCKENNA, TD Bank Financial Deputy Chair
Our Mission is Happening
To work in collaboration with post-secondary, community education providers, Tribal Councils, private sector and funders across Canada to increase literacy skills at or above functional levels for all English or bi-lingual speaking Canadian adult learners
"Poor literacy represents barriers that must be torn down!"
FRANK MCKENNA, TD Bank Financial Deputy Chair
Our Values are Cost-Effective
To develop people's entrepreneurial skills base through excellence in applied educational pedagogy, learner resources and delivery by skilled TeleTeachers using high definition TV DVDs.